Discover Health Chiropractic
Discover Health Chiropractic
Discover Health Chiropractic utilizes the NUCCA approach of chiropractic care. The NUCCA method is precise and gentle.
Dr. Reanna Plancich's emphasis is on the neurological function and how it relates to the alignment of the upper neck. She pinpoints the type of adjustment necessary to open up the communication channels in the body and provide relief and healing. There is no crunching, cracking or twisting necessary.
The clinic is conveniently located in the University District, Seattle.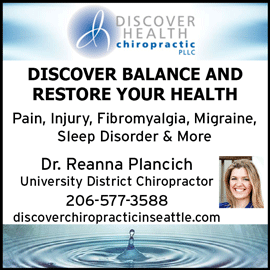 Discover Health Chiropractic
4345 Roosevelt Way NE
Seattle, WA 98105
(206) 577-3588
Chronic Fatigue & Illness
Sleep Medicine & Treatment